Salut c'est Noémie !! :)
Voici mon deuxième article concernant la musique chez les Gals !
J'en découvre de jours en jours et c'est fou combien il y a de gal qui font de la musique ! :D
Une de mes plus belle découverte :
Kana Nishino
De son vrai nom
Nishino Kanako / 西野カナ/ 西野加奈子

, Elle fait de la J-pop et J-R&B.
Originaire de
Matsusaka, elle commence sa carrière à 16 ans en se présentant à une audition.
En 2006, le label SME records lui propose un contrat qu'elle accepte pour réaliser enfin son rêve.
Vidéo duo avec Nerdhead
May's
MAY'S (メイズ (
prononcé maïs
) ) est un duo J-pop / R&B composé d'une chanteuse,
KATAGIRI Maiko (片桐舞子)
et d'un remixeur-producteur (de son),
KAWAI Junnichi (河井純一) a. k. a. NAUGHTY BO-Z
.
Leur nom de scène vient tout simplement du point commun de leur mois de naissance. Le mois de Mai.
KATAGIRI Maiko
est la fille du chanteur folk,
KATAGIRI Ryuu
et KAWAI Junnichi était guitariste d'un groupe de Rock auparavant.
Source
K.J. with TIARA
Tiara
Chanteuse J-R&B qui a debuté en 2007
Juste un album et deux singles je n'ai pas pu trouvé plus d'information sur cette chanteuse malheureusement.
「ふたりで、ひとつだから feat. WISE」
Lil'B
Membres :
- MIE (Chant) Née à Chiba
- AILA (Rappeuse) Née à Hiroshima
Lil'B est un duo de deux gyaru. Elles vivent tous deux a Tokyo et son de très bonnes amies.
Le nom Lil'B vient des deux mots suivants : "LIL" et "Betray".
En 2011, AILA quitte le groupe laissant MIE continuer seule qui choisira de garder le même nom pour la poursuite de sa carrière en solo.
Source
Chihiro
(video feat seamo)
CHIHIRO est une chanteuse-auteur-compositrice japonaise. Elle est actuellement chez le label, Smile Company.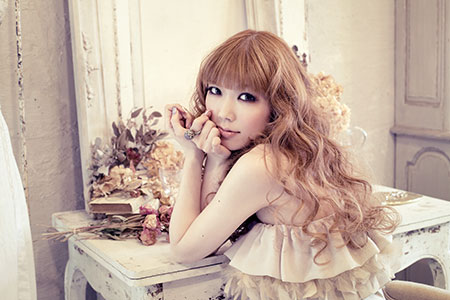 Dans le style R&B. Venant de FUKUOKA, elle commença tout d'abord à écrire des textes pour différents artistes et composer certaines musiques !
Durant l'année 2007 (février et décembre), elle écriva pour la chanteuse d'origine Coréenne,
MEILIN
. "Rock my world" et "Candy☆Boy" sont donc signés par CHIHIRO.
C'est en 2006, qu'elle décide de se lancer dans le chant. Et c'est au printemps 2007 qu'elle débute avec la chanson "In the FLOOR" qui ne sera seulement publié qu'en Vinyl.
Jasmine
Du R&B japonais :
JASMINE
, née à Tokyo le 19 mai 1989.
Elle signe un contrat avec un label après lui avoir envoyé la démo de son premier single : "sad to say" (la meilleure pour ma part) en 2009.
Elle passe d'ailleurs, chaque jeudi sur la station de radio japonaise 'J-WAVE, ce qui lui permet de rassembler une "base-fan" (essentiellement composée d'adolescent et de jeunes adultes) de plus en plus importante. Elle est maintenant présentée comme la potentielle nouvelle Utada Hikaru.
Source
Miliyah Katō
Je trouve son style (dans les vidéos live que j'ai pu voir) très proche de Koda Kumi !
De la Pop/urban
Katō commence à écrire et composer à l'âge de 14 ans. Elle a fait ses débuts sur la scène de musique avec la chanson,
Cherry, Oh Baby
. La chanson est sortie sur l'album
Reggae Disco Rockers
. En 2004, elle réapparait en featuring avec l'artiste Dozhi-T sur le single
Shouri no Megami
.
See you soon
xx
Noémie <3